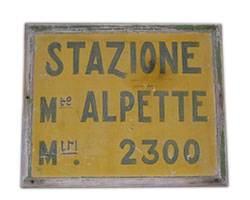 Welcome to Alpette Refuge
A balcony on Sestriere
From the first light in the morning to the rising stars of our restaurant is on hand to welcome and pamper you in the "warm embrace" of our mountains sunny and warm on days when the cold is more pungent with our hot drinks.
Guests can relax in the large outdoor terrace, or choose to sit inside where you can have more than 160 seats.
You'll be spoiled for choice among a large main room with a bar counter and a tasty self-service display, an adjoining room and as the main room offers a picturesque view of the slopes, or discover climbing a ladder placed near a warm and comforting fireplace in the rustic loft where you can admire the splendor of Monte Sises.

The Refuge Alpette dominates the summit of Mount Alpette, just above the town of Sestriere, located between the Alps between Italy and France. The restaurant is situated inside the arrival of the cable that connected the old bell tower of Sestriere with the first ski runs created on this side of the mountains. The Alpette Sestriere being a must for lovers of winter skiing and summer hiking is a great meeting place with loved ones or friends who visit a typical mountain environment and spectacular.

Bar Rifugio Alpette - Tel. +39 0122.75.55.05 - Cell. +39 335.644.80.36 - +39 338.572.00.44 - EMail: ristorantealpette@gmail.com